Riding electronic bikes gives a relaxing feel, and if you are pedaling, it is a great exercise for your body. E-bikes' popularity is increasing every day, and consequently, we can see many e-bikes on the road. The speed of e-bikes will be less than 28MPH, and it is not that much risk. Still, a little slip or imbalance is enough to make you uncomfortable for months. Hence, let us look at the top seven e-bike accessories to make your ride comfortable and safe.
Tips for you
To make your ride in any class e-bike, you should pay attention to the below tips and equip yourself with the best e-bike accessories. 

1. Wear a helmet 
Of course, for certain age groups and e-bike classes, there is no rule to wear helmets. However, wearing a helmet while riding increases safety, and it is one of the main electric bike accessories. Even if you are going with less speed, sometimes the situations will not be under our control, and a little imbalance can make you fall. So, wearing a certified helmet provides safety. Buy a high-quality helmet with well ventilation features. And don't forget to wear it even if you are riding for a short distance. 
2. Bring your mobile phone
This tip is the most followed by youths! However, some people tend to forget to take their mobile phones wherever they go. Whether you are going for a ride or to some other place, you must carry a mobile phone to handle emergencies. Your beloved phone can become one of the best e-bike accessories sometimes. For example, if your e-bike stops because of low battery or other issues, you need to take a taxi or call people who can fix your e-bike; you need a cell phone. Adding to this, a little bit of cash, your ID should be available with you always.
3. Carry a backpack
While riding, you certainly need a backpack to carry all the required e-bike accessories. Before buying, ensure you are purchasing a backpack made for commuters. Also, make sure you are taking a backpack. It should be enough to fit some clothes, padded compartment to keep the laptop safe. If you have a waterproof backpack, it is an added advantage; however, it cost you more. If you do not prefer carrying a backpack, don't worry; carry mount panniers, which are designed to carry accessories and bike gear. It gives more freedom to your upper part of your body. 
4. Comfortable Clothing
While riding, the clothes you wear makes a lot of difference. If you are riding to the office or college, and there is no time or place to change your clothes, you can wear normal clothes. But wearing padded clothes and cycling shorts makes your riding smooth. Especially if you are riding for a longer distance, it is highly recommended. So, the best thing to do is carrying your regular outfit in the backpack and once you arrive at the destination, change to the required attire. Adding to this, you must carry a towel or toiletry kit with wipes. It helps you whenever shower options are not there. 
5. Use lights, not just reflectors
To ride with utmost safety, lights are needed if you are commuting on the e-bike. These lights help you see the road and notifies your presence to fellow riders and vehicles. The best practice is to mount front and rear lights to commute easily in low visibility conditions. If you mount a high-quality bell on the handlebar, it becomes beneficial to announce your presence. If you want high lumens lights, they cost more but gives better visibility. If budget is not a problem, buy weatherproof and USB chargeable lights than battery-consuming ones. 
6. Know how to fix a flat and bring along tools
One of the best things is to carry the tools that become handy if your e-bike faces some issues. These tools can become your most valued electric bike accessories in case of unexpected situations. I know the failure of e-bikes is once in a blue moon, but you must be ready to face the unexpected. Adding to this, you must know how to fix the common problems rather than looking for a helping hand (rare to find when your time is bad!). You can carry a mini hand pump/ tire inflator, inner tube, tire patching kit, tire levers, and multi-tool. It's fine if you don't know how to use these, you can get help from others if you have all these things.
7. Food and drink for commuting
If your ride is expected to last more than 30 minutes, you must carry water and some food. The energy bars & gels can help you in satisfying your hunger. To provide energy for your body, water and food are essential. Hence you can consider this as the best e-bike accessories. Even if you are unable to carry food, water is essential. That too, if you are traveling on a sunny day, water helps you from getting dehydrated. 


Best eclectic bike in 2021 -
Turboant Thunder T1
Turboant Thunder T1 Fat Tire Electric Bike

The tires come with a wide surface, and the tire's dimension is 26*4 inches.

Easy, half twist to start getting assistance from the motor.

You can get pedal assistance levels in five different levels.

Adjustable handlebar stem and adjustable saddle height to eliminate back pain.

The features like high-quality brake levers, brake rotors, and safety throttle lock increase your safety.

750 W brushless motor.

It can take 264 lbs. of the load.

It is powered by a 14Ah Samsung battery.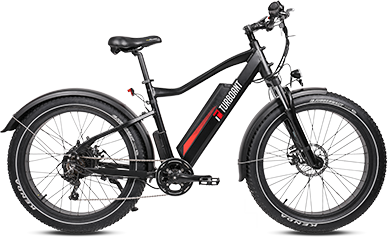 Price
To get this excellent e-bike, you have to pay $1,499. 98.  
Why do we like this?
The flat tires make the journey on all kinds of surfaces smooth. The tires are puncture-resistant, and you can become tension-free even riding on difficult surfaces. The front fork enables you to adjust as per the terrain, and it is ideal for off-road riding. The theft prevention design, quick-changing (3-7 hours), excellent safety features, five pedal-assistance levels, and bright LCD are the top features.
Conclusion
The e-bike riding is fun and safe. But if you want to experience a comfortable and safe ride, the above tips will help you meet that goal. Hence, whether it is short or long, from your next ride, try to carry the above provided e-bike accessories and be prepared to face any kind of situation.