Do you live in a city where you have to walk miles before accessing public transit? Most commuter e-scooters have an average maximum range of 25 - 30 km, which is ideal for short trips. However, if commuters need to use an electric scooter for long distance riding, a long range electric scooter is an ideal option.
What is a long range scooter?
A long range electric scooter is a two-wheeled vehicle powered by one or multiple electric motors. With handlebars raised on a handlebar post, a deck for standing, a full braking system, and quality tires, these scooters often assure you a smooth ride over a long distance. A well-rounded long range scooter can help you go farther up to 80 miles or even more.
Some manufacturers also include a detachable seat option in their long-range electric scooters for optimal comfort on long rides. There are also measures to save energy like cruise control and regenerative braking, ensuring you remain on the road for long before you need a recharge.
Part 1. What Are the Top 5 Long Range Electric Scooters in 2022?
First, the long-range electric scooters for adults are divided into 3 levels:
Long-range

: You can ride scooters for 20 to 40 miles on a single charge.

Super Long-range:

These scooters offer you 40 to 60 miles on one charge

Extremely long-range:

These long-range scooters give you a range of above 60 miles before you need to charge again.
With a body made from aircraft-grade aluminum alloy, the TurboAnt X7 Pro is one of the best longe-range electric scooters for adults. Unlike most electric scooters, the battery on this model is removable. This feature is handy on extremely long rides since you can swap a drained battery for a charged one in seconds.
It features a three-step folding mechanism for easy storage and transport, saving you time, energy, and space. Are you looking to beat traffic on your way to work? The TurboAnt X7 Pro has a top speed of 20 mph and a maximum range of 30 miles on a single charge.
The TurboAnt X7 Pro features a triple braking system with a front electronic brake and an efficient rear disc brake. Controlled by a hand lever, these brakes operate in union with the foot brake mechanism to ensure their brakes within a short distance. It also features a tail light that blinks when braking for optimal safety.
Are you planning to ride it on roads that might be a bit bumpy? No worries! The TurboAnt X7 Pro comes with 10-inch pneumatic tires that work in tandem to absorb shock maximally, ensuring comfort during the ride. Selling for $549.98, it offers impressive features for a long-distance ride.
The Apollo Ghost takes electric scooter riders to a whole new level. This scooter is made using forged aluminum, and it gives you the perfect balance of strength and stability while eliminating bulk. It also features a single-stem design which keeps the stem firmly in place. For optimal protection and durability, the Apollo Ghost comes with aluminum fenders.
The Apollo Ghost has different riding modes, from the single and dual motor to ECO or TURBO mode. Switching between modes is also easy as it happens with just the press of a button. With its 800 W brushless motors and a total of 1600 W nominal power, The Ghost is extremely fast. It has a top speed of 34 mph, accelerates to 15mph in 3.1seconds, and with conservative power settings, gives you a range of 39 miles.
With a braking distance of 8ft from 15 mph and 23ft from 25 mph, the Apollo Ghost is one of the safest around. While it is not a long range electric scooter with seat, its 10-inch pneumatic tires offer you lower ground clearance and a comfortable ride. At today's price of $1,499, the Apollo Ghost is a total steal.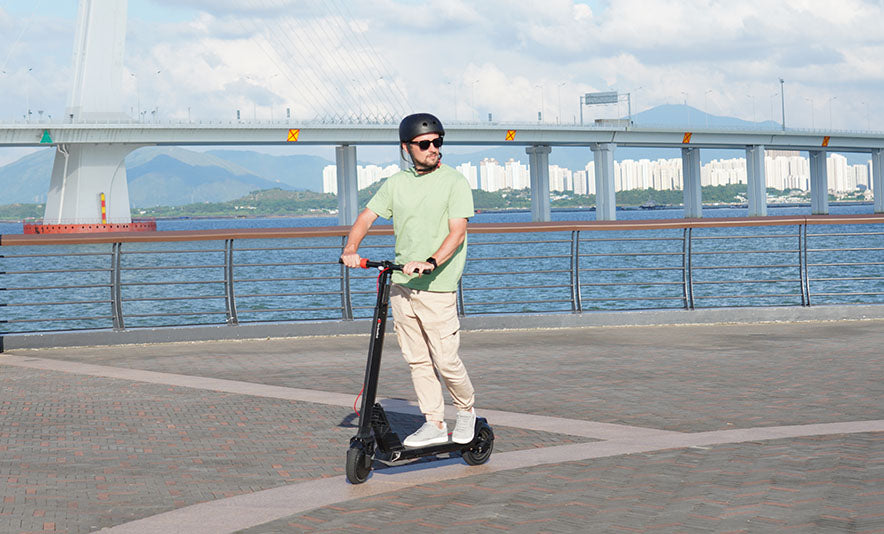 With a sleek design, the TurboAnt V8 long range electric scooter for adutls is not only elegant but also very efficient. Being foldable and weighing 47.62 lb., this scooter is portable and easy to store, taking minimal space.
This long distance electric scooter comes with dual batteries and a 450 W motor giving you more than enough power for fast travel. It has three-speed modes for different occasions. With a charge time of 6-8 hours, you get a top speed of 20 mph and a range of 50 miles.
Safety is important, which is why the TurboAnt V8 features a LED head, tail, and brake lights, keeping you aware of your environment at night. It also features a dual brake system with disc brake and electronic brake. The TurboAnt V8 suspension system and 9.3-inch tires ensure comfortable rides even on bumpy roads. It is selling for $799.98.
Are you looking for a scooter that combines the best of both motorcycles and small foldable scooters? The Dualtron X is the scooter for you. It has a design that offers you both the flexibility and portability of small scooters and the stability and comfort of bigger vehicles' security. While not as portable as smaller scooters, you can use this vehicle inside cities.
With its two brushless HUB motors, you get a combined power of 6720 W, which translates to a 55 mph top speed. While it is not the electric scooter with the longest range, you still get a whooping 93 miles range. It features a hydraulic disk braking system coupled with electric assistance great for fast maneuvers.
The Dualtron X features two tubeless 13-inch tires making it one of the most stable electric scooters on the market. It is the most expensive on our list, selling for $5,999.
5. Wolf King (60-100+ miles)
The Wolf King tops our charts as one of the most solid electric scooters in the market today. It is very durable and brutally efficient. This long distance electric scooter can climb a 50-degree incline slope with ease making it perfect for use both on and off-road.
The Wolf King features a dual-motor system with a power output of 1500 W each. This gives it enough power to reach top speeds of over 60mph and a range of over 93 miles on a single charge.
The Wolf King has a dual braking system which reduces your speed in a short time. 11-inch tires, front patent hydraulic shock absorbers, and rear C spring shock absorbers ensure you remain comfortable on any terrain. The price of this scooter today is $2,499.
Part 2. How Do Long Range Electric Scooters Differ From Common Electric Scooters?
Whether long-range or normal range, the type of scooter you get depends on your needs. The features that differentiate them include:
Motor:

Long-range electric scooters use one or more electric motors, while normal electric scooters use just one motor. Also, the motor featured in a long-range scooter always has a high power output of at least 700W, which often translates to speed and ability ride uphill.

Battery:

Long-range scooters feature batteries that have greater capacity. Designed for optimal comfort during long rides, it has a longer-lasting battery than those found on electric scooters.

Top Speed:

Since long-range electric scooters cover more ground than normal electric scooters, they are often faster. Some reach a top speed of more than 60 mph, facilitated by their powerful motor system. If you want to learn more about e-scooters at different speeds, you can read >> 20-70 MPH Electric Scooters in 2022.
Part 3. Is a Long Range Electric Scooter Suitable for You?
Why You Should Consider Getting a Long Range Scooter
Take on longer Trips:

long-Range e-Scooters can run to about 20-60km per charge. Most of the best range electric scooters have reliable batteries that can take you on a long trip without shutting down mid-way and leaving you stranded.
Ride in more open or Rural Areas to Avoid being Stranded

: Long Range e-Scooter can cover up to 20 to 50 miles depending on the road and trail you are riding. If you reside in a rural area, these scooters can cover 30 miles on a single charge.

Great for Adventure & Trail Riding:

They have full suspension for shock absorption, smooth ride on slippery trails, and puncture-resistant tires for rough or uneven roads. Electric Scooter with the longest range has a dual motor for hilly roads and mountains.

Less-Frequent Charging:

Long-range e-scooter takes 6 to 12 hours to charge and can last for 2 to 6+ hours depending on the battery capacity and nature of the road or trail. Higher battery capacity and a smooth road or trail will surely give you a longer ride when the battery is fully charged than a lower battery capacity and rough or uneven trail.
Why Long-Range E-Scooter is Not For You
Not Lightweight And Not Easy To Carry:

The higher battery capacity, dual motors, and hydraulic brakes make them heavier than the regular electric scooter.
Long Charging Time:

An average long-Range Scooter takes 6-12 hours to charge fully, depending on the battery capacity. This is a long time compared to the normal electric scooter, which takes 2-4 hours.
Not Portable Option:

They are not easily moveable. If you intend to take your electric scooter on public transport, you need to consider buying normal e-scooters.
Part 4. What to Consider Before Buying a Long Range Electric Scooter
Before buying a long-range electric scooter, there are important questions you need to answer so that you can make an informed purchase. These include:
1. Do You Always Ride in Urban Areas?
If you ride mostly in urban areas, features like bright headlights, LED display, and a good brake system are worth considering when buying these scooters. Dual motors for quick acceleration, full suspension, puncture-resistant tires, and maximum speed are important factors to consider if you are riding in rural areas.
2. Do you Need All-weather Compatibility?
If you intend to ride your electric scooter all year long, you should consider those with rugged tires, water-resistant, and Eco mode or reduced speed mode features.
3. How Compact Do You Need The Scooter to Be?
Most long-range electric scooters are heavy and not portable. If portability is an important feature you are seeking, you should opt for models with smaller decks and wheels.
4. What is Your Favorite Preference?
Long-Range electric scooter comes in different designs. There are models with simple designs and more advanced and sophisticated models. It all depends on your choice.
5. How Far Do You Need to Go?
An average long-range e-scooter can cover 20 to 40 miles, and more sophisticated models can cover 50 to 100+ miles. However, factors like the rider's weight, the condition of the terrain and road, and the rider's expertise can affect the mileage. If you need a higher mileage coverage, look out for long range-scooters with massive battery capacity, an Eco mode setting, and regenerative brakes.
Part 5. FAQ about Long Range Electric Scooter
How Many Miles Can an Electric Scooter Go?
Basically, an electric scooter's range greatly depends on a variety of factors such as the weight of the rider, presence of intensity of wind, the dryness of the terrain that the scooter is on, flatness of the road surface, and many other factors. Apart from these, factors such as the condition of some electrical parts of your scooter may also affect the mile range.
How Far Can an Electric Scooter Go on One Charge?
There are lots of factors that affect a particular electric scooter's battery life. For that matter, one simply can't accurately predict how long an electric scooter can go on one charge. But in general, most electric scooters can go from 10-80 miles (depending on the battery, weight, and other built-in factors) in just one charge.
Keep in mind that this depends on the type of electric scooter that you get. Of course, you can always check on the type of battery your scooter has to have a more or less estimate of the range in just one charge. Typical charging time is usually around 5-10 hours depending on the battery capacity, the type of charger used, and the voltage input. Make sure not to exceed charging time after you get the full charge to avoid messing up your battery.
Can you Extend Your Electric Scooter Range?
Now that you've figured out how to estimate an electric scooter's power life in just one charge, you might be wondering if there is actually a way you can prolong the electric scooter battery life of your ride. Can you actually extend your electric scooter range? Well, this may sound very surprising, but yes! It is quite possible to extend the range of your electric scooter.
Here are some things you can do all on your own, without purchasing any additional tools whatsoever, to guarantee an extended range for your electric scooter ride.
Do not maximize the speed of your electric scooter.
It only makes sense if you use your electric scooter to its full power, meaning you always ride on full or maximum speed, then you will likely to use up the power in a shorter period of time. Plus, going at the top speed will require more energy from the motor, thus the draining of your battery will happen much sooner.
Stay easy on the acceleration.
Refrain from accelerating your scooter often or too hard. If you wish to accelerate your speed, you can do so gradually. Never do it abruptly or all the time as this will certainly eat up the power of your scooter. A steady, smooth speed is the most ideal way to constantly maintain a good range.
Do not overload your scooter.
Here's one of the most common mistakes most electric scooters users do. Some would even be wondering why they always seem to lose power. Some users tend to carry more weight than usual such as bags, gadgets, and other stuff. You might not be aware but the heavier the electric scooter has to carry (and this doesn't only include you, the passenger), the more power it has to eat up to operate and run. Always be mindful of the number of things (and their weight) that you carry with you while riding your electric scooter.
Try to stay on flat terrains.
It's pretty obvious that running on steep or uphill terrain consumes a lot more energy than running on flat terrains. Because the scooter will move against gravity, more strain is put on the battery because of the increased energy requirement. Going on uneven terrains also have the same effect on the range of your electric scooter. Thus, you should avoid going on grasslands, rocky roads, and other similar terrains to conserve energy. You can always opt to go to roads that are specifically intended for public transportation so that you won't waste your battery's life.
Turn off your electric scooter when not in use.
It's something that most electric scooters forget. Always make sure to manually turn off your scooter if you're not using them. Keeping them on while on standby will still continue to drain your battery. Some components of the scooter remain to consume energy even while the scooter is not moving.
Regularly maintain your electric scooter.
Just like with cars, your electric scooter will need some maintenance from time to time. This means changing the tires, checking on the batteries and other small components you may have been neglecting over the past weeks or months. When your scooter is well-maintained, the electric motor will have a much easier time functioning, thus consuming the minimum energy possible to operate.
Now that you already know some of the things you can personally modify or adjust in order to prolong the range of your electric scooter, here are some things that you can modify on your electric scooter.
Replace your battery.
There's a reason why your scooter seems to always die on you even if you're already trying your best to conserve power. It might have reached it charge cycle limit, thus losing the energy capacity it used to have. You can easily avoid this by properly maintaining your battery. However, nothing lasts for a lifetime. A battery that is about one and a half to two years old may signify that you need to get a new one.
You can also opt to replace your old worn-out battery with a high-power battery that is guaranteed to give you a more powerful energy.
Check the brakes.
Believe it or not but even your electric scooter's brakes condition can certainly determine the range of your scooter. If your brakes are not aligned properly or are placed too tightly, your brakes may be rubbing. This could be detrimental to your overall mile range because brakes that are not in good working condition could put a strain on the electric motor, causing it to work twice as hard.
Always check the tire pressure.
Just like with cars, properly taking care and checking on your tires are essential to a smooth sailing ride. Make sure that the tire is just at the right amount of pressure. Of course, do not overinflate your tires. Check out the recommended tire pressure for your scooter model to avoid flat tires on electric scooters.
When your pneumatic tires are well-inflated, you won't have to worry about a flat tire during your ride. This increases the overall range of your scooter as well as your safety.
Conclusion
Long range electric scooters are ideal for long-distance riding because they are faster and offer more distance between charges. It's just exciting to get a hold of your first electric scooter. Before purchasing, one must look into factors such as mileage in order to get the most of your electric scooter. Keep in mind that the listed mileage above is subject to change depending on how fast you are going, what terrain you plan on using them in, and many others. We have provided five long-range electric scooters with different attributes and prices, but the TurboAnt adults electric scooters are our top pick.