Highlights
Specifications
Packaging
Q & A
Model Comparison
Reviews
Detachable Battery, Rich Benefits

A superior choice for efficient and sustainable urban mobility.
10 Ah

Detachable Battery
48 km

Maximum Range
350 W

Brushless Motor
32 km/h

Maximum Speed
275 lb

Load Capacity
3 sec

Quick Folding
Triple Braking

Disc, electronic & foot brake
15°

Climb Capability
Innovative Design, Heightened Performance
Quick and easy battery swap that only takes seconds

Water-resistant and dust-proof structure for safe storage

Impressive mileage powered by a high-capacity battery

Optional back-up battery for extra mileage and fun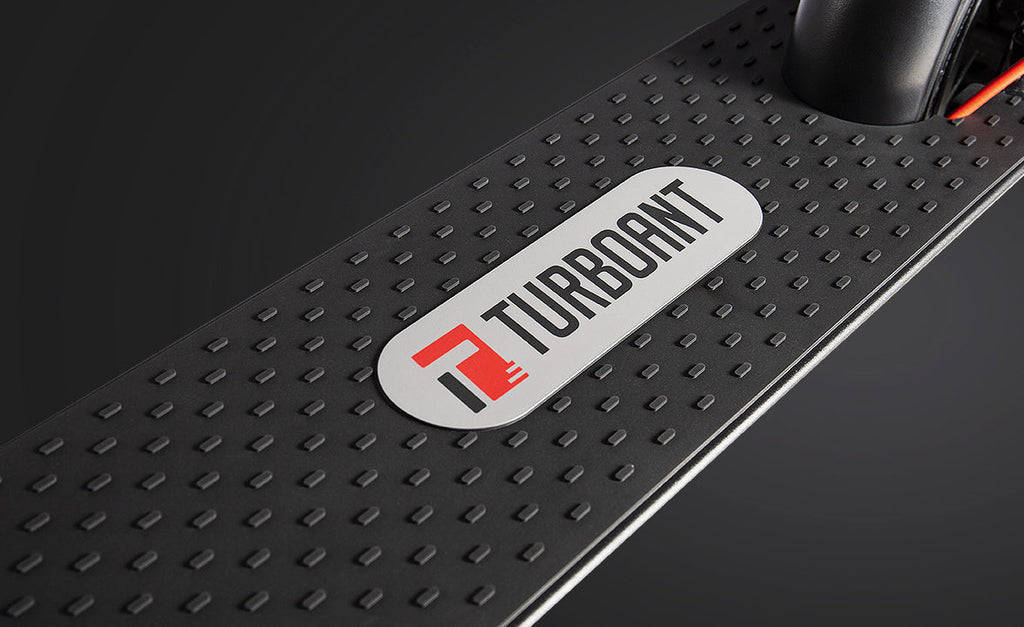 275 lb (125 kg) Maximum Load & Spacious Deck
The X7 Pro is compact yet sturdy to carry weight, and its wide, anti-slip deck allows both feet in a secure, comfortable position.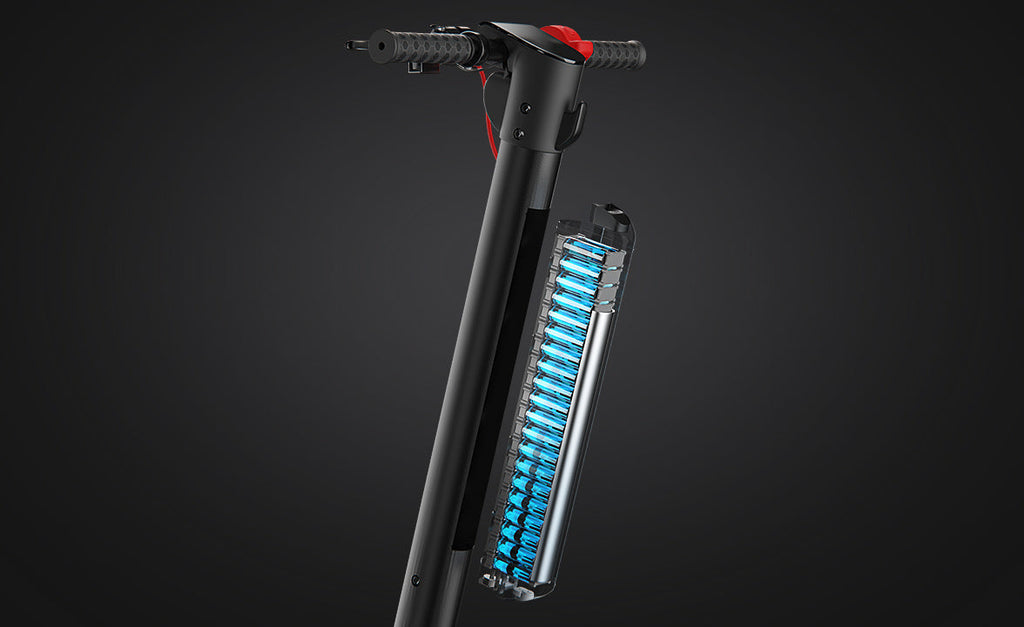 48 km Maximum Range
A morning ride to your workplace, a noon meet-up with friends blocks away, and an evening visit to the supermarket, all on a single full charge.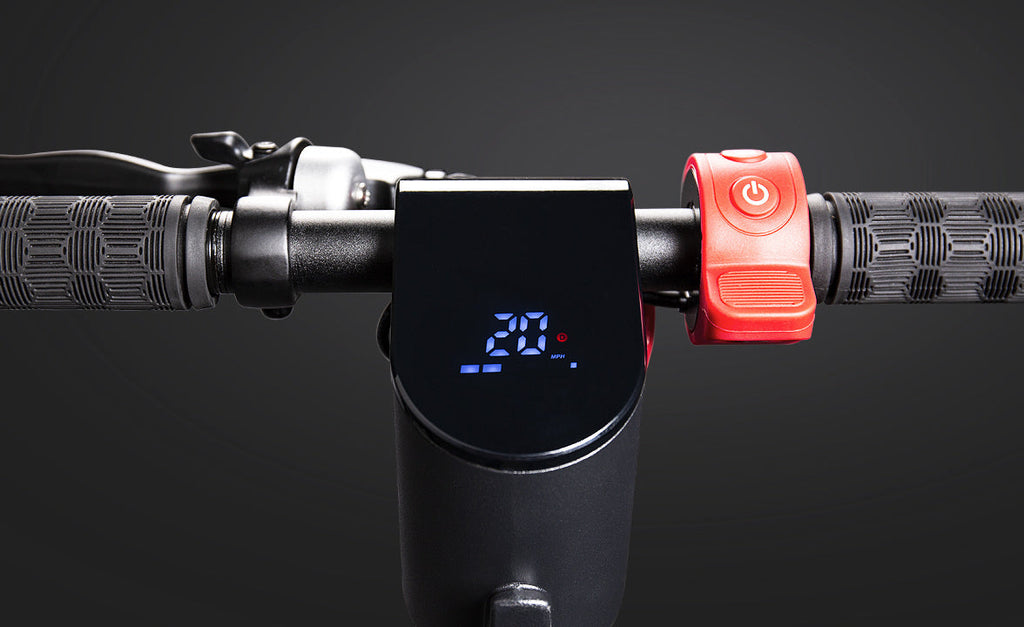 32 km/h Top Speed
It is the right speed for you to beat the heavy traffic and arrive at work on time, even after a quick stop at your favorite coffee shop.
350 W Powerful Motor
The motor releases remarkable power when quick acceleration is needed, while its balanced throttle response offers a smooth everyday ride.
Convenient Use, Enjoyable Experience
10-inch pneumatic tires maximize shock absorption for added riding comfort.
The on-board computer displays speed, battery status, and riding mode.

Eco Mode permits travel at an energy-efficient speed to extend battery life.

Comfort Mode delivers an ideal riding performance for most daily trips.

Sport Mode boosts your ride with a maximum speed of 32 km/h.
Cruise Control

Maintains your desired speed automatically to avoid hand fatigue.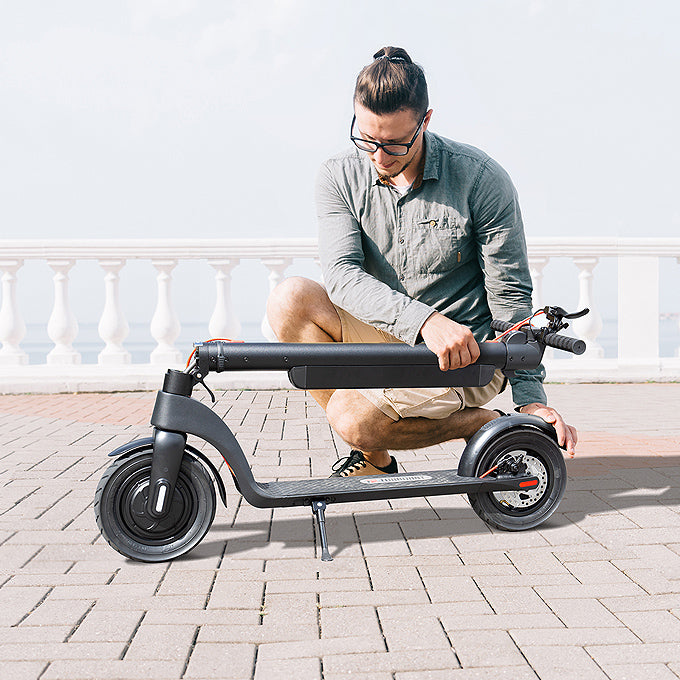 3-Step Folding Mechanism

Makes your e-scooter ride both time-saving and space-saving.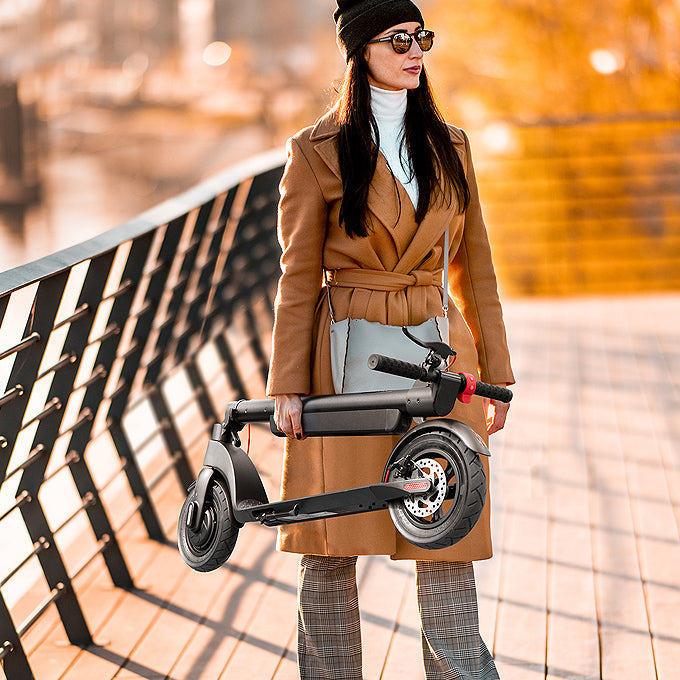 Lightweight Frame

Allows easy transportation whenever portability matters.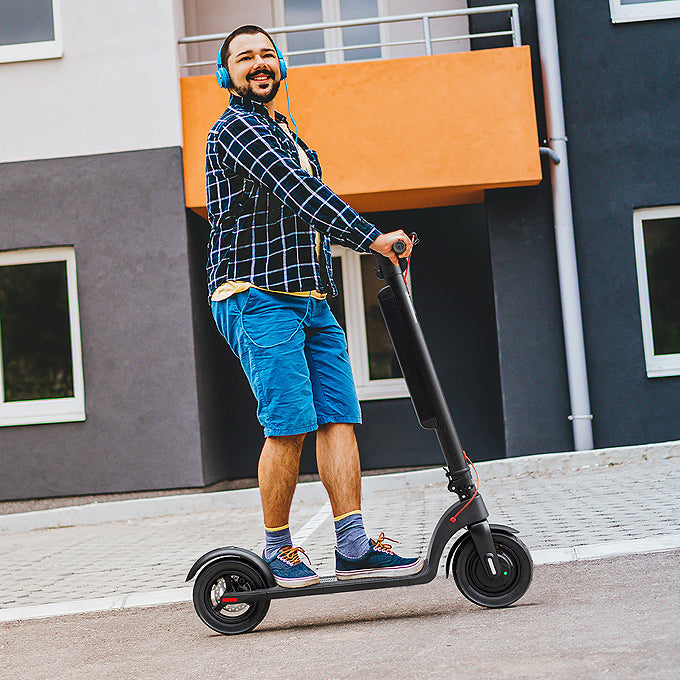 15° Climb Capability

Handles hilly streets effortlessly at a press of the throttle.
Thoughtful Features, Enhanced Safety
3 W LED Headlight

The front-facing LED light illuminates the path far ahead, helping with early detection of adverse road conditions such as water puddles and loose rocks. It also increases the rider's visibility to other vehicles and pedestrians.
Triple Braking System

A responsive rear disc brake and front electronic brake, both activated by the hand lever, work jointly with an auxiliary foot brake mechanism to achieve a short braking distance of 16.4 feet. The taillight blinks in red when braking to alert people nearby.
Technical Specifications
Dimensions & Components

Unfolded Dimensions

42.6 × 16.5 × 46.7 in

(1083 × 420 × 1186 mm)

Frame Material
Aluminum alloy
Folded Dimensions

42.6 × 16.5 × 18.1 in

(1083 × 420 × 460 mm)

Tire (Front & Rear)
10-inch pneumatic, with inner tubes
Net Weight
33 lb (15 kg)
Waterproof Level
IPX4
Handlebar Width
16.5 in (42 cm)
On-Board Computer
LCD display
Deck Length
18 in (46 cm)
Safety Warning
Bell
Deck Width
5.7 in (14.5 cm)
Headlight
3 W white LED
Ground Clearance
4.5 in (11.5 cm)
Taillight
Red LED
Maximum Load
275 lb (125 kg)
Motor & Performance

| | | | |
| --- | --- | --- | --- |
| Motor Type | Front hub motor | Maximum Climb Angle | 15° (affected by rider's weight, weather and road condition) |
| Motor Power | 350 W | Braking System | Disc brake, electronic brake & foot brake |
| Maximum Range | 30 miles (48 km) in Comfort Mode | Braking Distance | 16.4 ft (5 m) on dry surface |
| Maximum Speed | 20 mph (32 km/h) | Riding Mode | Eco, Comfort & Sport |
Battery

Type
Lithium-ion
Charger's Input Voltage
AC 100-240 V, 50-60 Hz
Mount
Detachable on the stem
Charging Time
6 hours
Output Voltage
DC 36 V
Storage Temperature

14 to 104 °F (-10 to 40 °C)

Capacity
10 Ah (360 Wh)
Maximum Storage Time

3 months (full charge recommended before storage)

Charging Voltage
DC 42 V
X7 Pro User Manual
Packaging
1 x X7 Pro Electric Scooter

1 x Charging Adapter

2 x Handlebars

1 x M6 Hexagon Wrench

1 x User Manual
Q & A
What makes the X7 Pro folding electric scooter a best-seller?
The X7 Pro folding electric scooter for adults is a great commuting e-scooter that delivers good value for money. With a top speed of 20 mph and an extensive range of 30 miles on a single charge as well as a detachable battery design, the X7 Pro is the top choice for commuters who want to be more efficient, all while being healthier and greener. Its twin model X7 Max with a longer 32-mile range does the same. But if you want to ride further, then the 50-Mile Dual Battery V8 Long Range Electric Scooter is worth taking a look at.
Go to >>Best Foldable Electric Scooters for Adults for more advice on folding scooters.
Are the X7 Pro and the X7 Max folding electric scooter the same?
No, they are not.
The X7 Pro is TurboAnt's classic model of folding electric scooter for adults. It is known for its detachable battery design that allows for fast battery change and convenient recharge. The X7 Max is quite similar to the X7 Pro but with some adjustments: an increase of 2 miles in range, a battery lock, and an elevated deck.Both models are an ideal option for commuting, daily activities, and leisure riding. Riders can choose either one depending on their own preferences and needs.
Or you can go to >> Electric Scooters for Adults for more advice on which folding scooter is right for you.
What is the load capacity of the X7 Pro folding electric scooter?
What is the size of the X7 Pro's tires?
The X7 Pro's tires are 10-inch pneumatic tires with good shock absorption performance. There are other tire types available on the market, and you can read
The Guide to Electric Scooter Tire
to learn more.
What PSI level should I keep the tires inflated at?
We recommend inflating its tires to 31.9-34.8 psi (220-240 kPa).
What is the recommended rider height for the X7 Pro?
The recommended rider height is 4'1"-6'3" (1.5 m-1.9 m).
Is the handlebar adjustable?
The height and length of the X7 Pro's handlebar are non-adjustable.
What is the X7 Pro handlebar width?
The handlebar width is 16.5 inches (42 cm).
What is the length and width of X7 Pro's deck?
The deck is 18 inches (46 cm) long and 5.7 inches (14.5 cm) wide.
What is the weight of the X7 Pro?
The product weight is 33 lb (including the battery).
What is the weight of the X7 Pro battery?
The battery weight is about 7 lb (3.2 kg).
What do riders like most about the X7 Pro E-Scooter?
Urban commuters love it for its detachable battery design that makes transportation and battery change & recharge easy. They also enjoy it for its powerful performance which allows it to be used for various riding purposes such as daily errands and leisure riding. Click
here
to see what other riders say about the X7 Pro and why it is trusted and recommended.
Can the X7 Pro E-Scooter handle hills/inclines?
The X7 Pro E-Scooter can climb up to a 15° slope. However, the actual degree that the X7 Pro Electric Scooter can handle will be affected by factors such as the rider's weight and the riding speed.
Can I ride the X7 Pro on gravel paths?
Riding on gravel paths or other uneven surfaces will affect the riding experience. We highly recommend riding the X7 Pro on smooth, hard surfaces for a more comfortable ride and to keep the tires in good condition.
How long is the X7 Pro's warranty?
Our warranty policy covers all electric scooter orders for up to 12 months after sales, and the 30-day return and refund policy allows you to have peace of mind when you buy. Click here to learn more.
Can I ride the X7 Pro in the snow or rain?
The X7 Pro is an IP54 rated and
rain-resistant electric scooter
, but we do not recommend riding in the snow or rain for your safety and to keep the e-scooter in good condition.
Do you have accessories for the X7 Pro E-Scooter?
Yes! Click
here
to shop for X7 Pro electric scooter accessories.
Are there any product reviews of the X7 Pro E-Scooter?
Yes! Click
here
see why the X7 Pro electric scooter is trusted and recommended!
Where can I find more information about the X7 Pro?
Click here to explore user guides for the X7 Pro Electric Scooter.
Are the detachable batteries of the X7 Pro, X7 Max, and V8 interchangeable?
The batteries of the X7 Pro, X7 Max, and V8 are all detachable but cannot be used for another e-scooter model due to their different inner structures. Please double-check your e-scooter model before ordering the battery.
Warranty
Electric Scooter Warranty

Fast & Free Delivery
12-Month Warranty
30-Day Return
Lifetime Technical Support